When most people think of going out to eat in Nashville, Tennessee, they assume people pick barbecue.  However, there is a diverse cuisine culture to be had.  Today, we are reviewing three hamburger restaurants in Nashville.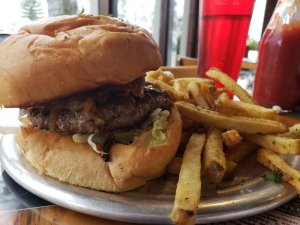 Brothers' Burger Joint got its humble beginnings as a food truck called The Brothers Burger in 2015.  Founders and brothers Cole and Jeremiah James shared a love of not just eating food but preparing it and sharing it with friends and family.  Their food truck specialized in gourmet burgers and was an iconic figure around Nashville.
In 2017, a close friend who had closed his bistro, encouraged the brothers to open a restaurant in Berry Hill.  By then they had gained a large loyal following so opening Brothers' Burger Joint seemed like the perfect thing to do.  Plus, this area held childhood memories for the brothers as this is where they grew up.
Today they are enjoying great success with the support of friends, fans and family.  They have over three hundred online posts giving them close to a five-star rating.
Gabby's Burgers & Fries is located in South Nashville in the Wedgewood-Houston area.  Owner, Doug, had always dreamed of opening his own restaurant as he spent many years bussing tables and working in other restaurants.  His first restaurant was very successful but demanded so much of his time, he did not get to spend time with his beautiful wife and children.  Taking a risk, he sold that business to open Gabby's Burgers & Fries.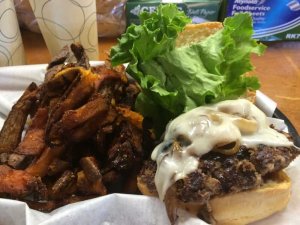 One of the things that makes Gabby's Burgers & Fries unique is they serve only grass-fed beef.  Corn fed beef is subject to recall and that really hurt his business at one point.  After doing some homework, Doug decided that grass-fed beef was healthier.
Some of the benefits of grass-fed beef are:
Lower calories per patty
Less fat – you can compare the amount of fat to a chicken breast
Very high in Omega 3's and vitamin E
Lastly, there are no antibiotics or hormones
You will pay a higher cost for their burgers, but you will feel better about the beef you are consuming.  Their clientele rave about their burgers on the web getting their star rating to a four-point-seven.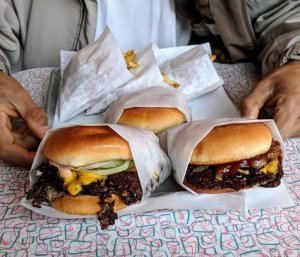 Hugh Baby's is located at 4816 Charlotta Avenue in Nashville, Tennessee.  Hugh Baby's was inspired by owner, Pat Martins, uncle "Hugh Baby" Coleman.
Pat's uncle instilled in him a love of not only great food but being a great storyteller and jokester.  Pat became a Pitmaster then opened his first restaurant in Mississippi.  He was featured on the Travel Chanel, the Food Network and on The Today Show.  Various publications featured him as well such as Bon Apetit.
The idea behind Hugh Baby's is to keep the food simple using Memphis barbecue traditions.  They also want the place to feel authentic by giving it the small-town Southern feel.  Finally, they refuse to freeze or microwave any of their cooking.  Everything is prepared fresh daily.
After getting over seven hundred internet reviews, they have decided to open a second location in Berry Hill.  Now there is some competition to Brothers' Burgers and Fries.
Nashville Hood Cleaning Pros has been servicing the Nashville area for years.  Their highly trained professionals are licensed and bonded in commercial kitchen cleaning, especially hood cleaning.  Any restaurant owner knows that a thorough hood cleaning by professionals should be done at least once a quarter to keep their exhaust system running at its top capacity.  Call them today at 615-235-0373.